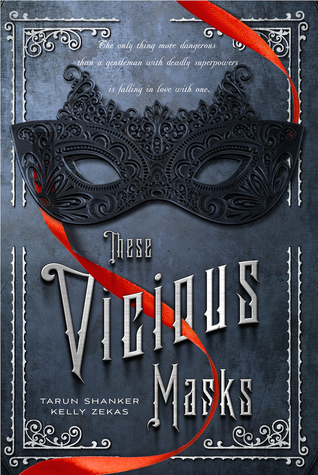 These Vicious Masks by Kelly Zekas & Tarun Shanker
Published by: Swoon Romance
Publication date: February 9th 2016
Genres: Fantasy, Paranormal, Young Adult

Synopsis:
Evelyn has no interest in marriage and even the dashing Mr. Kent can't make her want to live up to society's expectations. She'd much rather assist her beloved sister Rose in becoming the world's first female doctor. But everything changes the night she meets Sebastian Braddock – not only is the reclusive lord both vexing and surprisingly attractive, he's also quite possibly mad, and his interest in Rose is galling. So when Evelyn wakes up to discover that Rose has disappeared, she immediately suspects Sebastian.
But then she discovers that Sebastian's strange tales of special powers are actually true, and that Rose's kidnappers have worse in mind for her than simply ruining her reputation. Surrounded by secrets, lies, and unprecedented danger, Evelyn has no choice but to trust Sebastian, yet she can't help but worry that Sebastian's secrets are the most dangerous of all…
Purchase:
My Review
This is such a fun and intriguing story. Evelyn is the main character and she has enough of all the high society and balls and social courts. She has already debuted and is supposed to be finding a husband. But instead, her baby sister goes missing and she needs to find her first. So off she goes in search, with her friend Kent, but there's more going on that just Rose being missing. This is where we meet Mr Braddock to get his help. Now this does read a good bit like a historical, which is usually not my cup of tea, but I really liked this one.
I seriously loved the characters. Evelyn is hilarious and has so much sass and attitude but in a good way. She may be angry and outspoken, but I loved this about her as well. She's sometimes a little crazy with her spontaneous decisions that almost get her into trouble. And then the side characters and the supernaturals- people with special abilities. I was amazed at some of those abilities but I won't spoil all the fun. And then we have our men- Sebastian Braddock and Nicholas Kent. Braddock is the broody bad boy who helps Evelyn understand those special things happening around her. He really was the surprise of the story for me. And Nicholas, he is the friend, and not quite so special. I know that seems mean because he's an interesting character but he's paler compared to Braddock. LOL
And no worries, there's little romance but it's not the major part of the plot. But there's definitely a cliff hanger type ending. It's very open, which I assume will mean a series, or I sure hope so as there are too many things missing from the end. The world building though is fantastic and the mystery of the supernatural part was well done, with a slow increase building to make you appreciate it more. Overall, I hope there will be a book two to pick up, which I will :) It was a fun and fresh new take on a fun look of supernatural abilities. :) 4.5 PAWS!
AUTHOR BIO:
Tarun and Kelly met in a freshman year writing class at NYU and started writing These Vicious Masks a few years later.
Tarun is a writer living in Los Angeles whose idea of paradise consists of kung-fu movies, David Bowie and chai tea. Since completing his first horrible screenplay in high school, he's written everything from one-act plays and film criticism to humor pieces and strongly-worded emails. He's also magnetized, crushed and burned the hard drive where that first screenplay can be found.
Kelly is a writer and actor living in NYC. YA is her absolute favorite thing on earth other than cupcakes and she has spent many hours crying over fictional deaths. She also started reading Harlequin romances at a possibly too early age (12?), and still loves a good paperback romance.
Individual (per-blog) giveaways:
Each blog (if they chose) is hosting a giveaway for one (1) finished physical copy of These Vicious Masks. Open to US and Canada. Make sure you check out the other stops for even more ways to win this book :) Here's my giveaway!