Tomorrow is the release day for Halfling and I am honored to be able to share this one with you guy!! As a blogger, my whole outlook for blogging about books is to share those books with everyone. I always found so many great recommendations from bloggers before I started doing it myself. I still follow my favorite bloggers and read what they have to say about it. Now, in becoming a blogger, you get to have interactions with so many wonderful people. Even though you have never met them in person, you become friends with them. And this lady is one of those favorite people. I may not have met her in person, but I love her all the same and consider her a friend. So, THANKS Ms G for always giving me fun things to look forward to in my inbox and I always get a big smile on my face when I see it's your name!! Now, let me tell you all about these goodies!!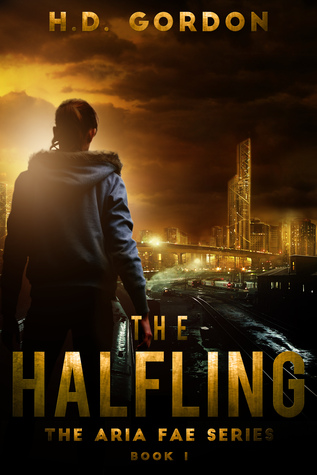 Expected publication: February 2nd 2016
Being seventeen and an outcast is hard. Being seventeen and only half human is harder.

When Aria Fae gets cast out of the Peace Brokers, a secret supernatural organization that's trained her since infancy, and is left to fend for herself in the human world, she finds herself in Grant City, intent on attempting a normal human life.

As a Halfling, Aria has abilities that are a little underused in the flower shop she lands a job at. And when her new friend Samantha Shy enlists Aria to help investigate her mother's death, the two girls decide to become vigilantes.

A new drug called Black Magic is running rampant in the streets of Grant City, turning people into supercharged maniacs. With Sam's mad computer skills, and Aria's Faevian abilities, they may be just the heroes Grant City is in need of.

Or they may find out they're in way over their heads, and their mutual crush on the same guy is the least of their worries.
My Review
Shall we talk about how fascinating this new series is? Or how about how magical this author writes! Or how true captivating the message in this story plot is. It will never cease to amaze me how great a write Ms Gordon is!! This is a wonderful way to start a new series with a little surprise guest at the end. :) I also need to state up front I am all Team Thomas Reid but dammit if I'm not cheering for Team Caleb too :)
Aria is a stunning lead character. She is strong and independent and yet after some very hard moments she is still caring and compassion. She may be cracked but she's not yet broken. And her relationship that blooms with Sam is just full of smiles for me. Both girls have found what they were lacking in each other. I loved their friendship.
The guys in here are all swoon worthy, even the nerd and the bad guy!! No one went astray in character depth as the author clearly put a lot of effort into every little detail imaginable for all of them, even the school bully. And the little inside look of the threats to come only make me want to know who's behind that closed door!
I have been a fan of this writer from the beginning but I really think she may have out written herself here. I never thought I'd love a series more than Alexa's but I'm proven wrong- Aria is absolutely magnificent and I'm completely on her team!! Oh I still love Alwxa and Surah too but something about Aria just pulled me in. I loved every single second of this story and I am dying for more! I need book two like yesterday :) Ms H-- there's never enough thanks for gifting me your books, but THANK YOU!!! Reading your stories always makes my world a little bit brighter :) 5 PHENOMENAL PAWS!!!
About the Author

H. D. Gordon is the author of young adult and adult fiction. She has independently sold over 40,000 e-copies of her books worldwide, and has an eclectic taste in genres.
H. D. is a poet, a mother, a philosopher and an earth-lover. She believes our actions have ripple effects, and in the sacred mission of bringing love and light to the world.
She loves big dreamers, animals, children, killing zombies, eating dessert and old souls.
She is 26 years old and resides in southern New Jersey—which she insists is really quite lovely.
Email H. D.
hdgordon@outlook.com
There are several ways to get in touch with H. D.
Email H. D.
hdgordon@outlook.com
Email H. D.
hdgordon@outlook.com
Email H. D.
hdgordon@outlook.com
Email H. D.
hdgordon@outlook.com
UPCOMING RELEASES:
February 2nd, 2016:
THE HALFLING
(The Aria Fae Series, Book 1)
March 29th, 2016:
The Aria Fae Series, Book 2
May 30th, 2016:
The Aria Fae Series, Book 3
July 12th, 2016:
The Aria Fae Series, Book 4
September 26th, 2016:
The Aria Fae Series, Book 5
November 1st, 2016:
The Aria Fae Series, Book 6
March 1st, 2016:

Re-release of THE COMPANY STORE, a YA Dystopian Novel
*Dates are tentative, Subject to change