Oh Em Gee!! I love when I find a new series that I can totally obsess over... THIS IS ONE!! And let me just say this- THANK YOU MS SMITH!!! She actually gifted me all three books in this tour, and I am so very appreciative that she did. I immediately went to buy book four after the last sentence of book three, but sadly it's not for sale yet... *big sigh* LOL BUT...... This series has taken my by surprise. Now, I am also going to tell you to read this whole blog post backwards... Yep, scroll down and read my review for book one, then book two, then book three. LOL we are promoting the whole series, but if you don't want to see little bitty spoilers ( you know I try to keep as many mysteries as possible) then you might want to do the backwards thing. If not, read them all because I am seriously going to push this book series, and it's not even about freaking werewolves- that's a miracle if you know me LOL Now, here we go!!
oh one more thing--- HAPPY LATE BIRTHDAY MS SMITH :) as I finish up my post, it's technically still your birthday but you won't see this until the day after LOL
Dark Forsaken
Devil's Assistant Series
Book Three
HD Smith
Date of Publication: 12/25/2015
Cover Artist: Robin Ludwig Designs
Last Spring, Claire was framed for the murder of Junior, the Devil's oldest hellspawn.
Last Summer, she reawakened the fourth realm, saved the world (after almost destroying it), and wound up with the worst job ever.
Now, Claire's been locked out of her realm, given an assistant that doesn't actually assist, and told to handle a small problem in Underworld that might just get her killed.
And to top it all off, Mab's made one of the contenders her untouchable. So, yeah, you could say Claire's having one of those days.
Follow more of Claire's adventures in Dark Forsaken, book 3 of the Devil's Assistant Series, to find out if Claire can defeat the latest contender, survive the quads, and replace the curator before Harry figures out she's stolen his blood.
On Sale for .99 Feb 5-12
Amazon
My Review
Oh my holy goodness. Like, holy moth balls Batman! I am trying to pick up my jaw off the floor. After everything that has happened I didn't think it could get any crazier- no I am lying, I knew it would get crazier, but I was not seeing this... I hinted at a few things before, I was secretly trying to vote for one of those guys Teams... and maybe JUST MAYBE I might get my wish... Oh, that in itself made me burst with joy. But of course, that one could be killed off, and there's some other guy who has a stake in the matter, and that other guy who is now threatening to kill people off. Yeah see, complication at it's best. Ok, so without too many spoilers, Claire had a boo boo with the Curator of the Museum- I will call it that- when she found Raven- the first contender- in the last book. And her new job is to replace the curator before she can go back to her realm. Yes, the big three have locked her out of her own realm that she is supposed to be queen of. AND... someone is killing off and moving out people down in the druid section- Harry's people- and it's related to some of her fallen folk. So she MUST settle this within the week. OH and one more thing, there's a new enemy in town who wants her dead because he says she's a fake, and is willing to use her friends to get it done. With the Quads and Ronin magically being used against her, and the next two contenders arriving, Claire is seriously up a creek, and she doesn't have paddles, a boat, or a life jacket. HA! But she is resourceful. So she sets it for herself to make each of these things happen with as little death as possible. Yeah cuz that isn't gunna work out so well.
Now, Claire is just a bad ass. I have decided this. She will do what she needs to do to make things right. She is still finding out pieces of information that people have kept from her, and she has decided that she will make allies where she can, and will put the bad guy (guys) in their place, and she really doesn't want to kill of the competition, but that's really hard, when one literally wants her blood at all costs. Mab is still on her case, and when she gets her hands on Harry's blood to help her survive, she is in a race against time not just for her life, and Sydney's life (one of the contenders), she's also got to get it all done before Harry and the Big Three realize she has almost as much power as they do- or more. And then chaos ensues. Seriously, I never thought one author could take a series and completely keep me surprised all the time. I am still going to say it's unpredictable because I NEVER KNOW what will happen. Just when I think I got the hang of something, BAM, there's a whole mess of crazy that happens.
I loved meeting Sydney, And I really don't like Faith. I am swooning of Mace, and I am really really really glad to keep Sorrel and Sage around, even if they are complicated. I kinda freaked over that part. And I have a feeling Cinnamon will come around more when she finds out everything. She is learning a few things as well. I am a little pissed at Death right now, but can't go there. I am rooting for Ronin because he really needs to get his priorities straight. I am majorly on the fence with Thanos... Did he really lose his memories or is he really trying to protect Claire. And was it real, or magic, or something else. And what's going to happen after all of this has gone down. I am so freaking salivating for book 4 it's not even funny. And I am really really cheering for Claire because she continues to stay on my good list. Sometimes, the heroine falls short of expectations because of all they accomplished in the earlier books, but no, Claire continues to rise in my opinion and I cannot wait to see where things are going to go from here. I'm still not sure I am prepared for where things are going to go. But I still want it! HA! And I don't think I can say more because I really really don't want to give up spoilers... But ps, I need to say this... the east bunny part that was introduced in the last book, I am still reeling and I don't know if I can dye eggs anymore without seeing what I see in thses books. LOL Fantastic little twist there. And I am ready for more! 5 PHENOMENAL PAWS!!! PS Ms Smith- THANK YOU for the "mace thing" because every bad boy can have a good heart somewhere and I am so stoked to see where this can go. Seriously, I was secretly cheering in book one, getting more productive in cheering in book two, and now in this one, I am outright screaming with pom poms hahahahaha But then I am also really torn because of Thanos.... *le sigh* ;)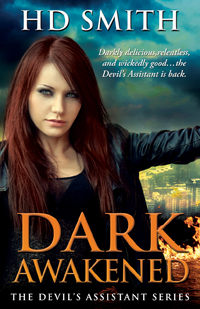 Dark Awakened
Devil's Assistant Series
Book Two
HD Smith
Date of Publication: 12/01/2014
Cover Artist: Robin Ludwig Designs
Last spring Claire's seemingly normal—if not totally screwed up—life was tossed on its head. For five years she'd been one of the damned—a human that knows the truth about the otherworldly among us. She'd worked for The Boss—the Demon King himself—as his administrative assistant, handling everything from early retirements, to Maintenance's incessant requests for dental.
Then she walked into Purgatory—totally not her fault—went back in time, and awakened powers she never knew existed. Now Claire has a prophecy hanging over her head, a diamond ring hidden in her sock drawer, and the blood of a long dead royal running through her veins.
And it's only going to get worse.
Her vow to live free or die takes a serious hit when she's forced back under The Boss's protection. Of course, there's no protection from fate, or the Bounty Hunter sent to deliver her to Purgatory. And as if being "the girl" in the prophecy wasn't enough, Claire soon discovers there are three other contenders for her role—two of whom want her dead.
Follow more of Claire's adventures in Dark Awakened, the second installment of the Devil's Assistant Series, to find out if she's lucky enough to escape with her life, or if she's just the first notch on the next contender's belt.
On sale for .99 Feb 5-12
Amazon
My Review
I thought book one surprised me... Nope, this one is even better. We were left with a lot of questions from book one- or I was- I knew they would get to those. And most of those have been answered here... But there's a few left for book three. Now before I get into that. I FREAKING LOVE THIS SERIES!!! For those of you thinking of reading this series, read book one. Really. I don't recommend jumping into this one first. Only because book one really is awesome and gives you so much to go forward with in this one. There's so much going for this series. I mean, seriously, actions, mysteries, suspense, hot guys, more hot guys, crazy freaking evil queens, yeah I mean Mab, and some seriously screwed up siblings that kind of blow my mind. And Claire is still dealing with the fall out from all the events of the last book. And she now has like 5 dump trucks of madness dumped on her. And she has a time limit. And she is in trouble. But she is really resourceful- she will even tell you this in the books LOL. And now, we are learning even more about these prophecies and why the Big Three (The Devil, the Druid King, and The Pagan Queen) are going so overboard around Claire. Like, enough to give up their powers and kids. Just wait...
Claire is even more awesome in here. You would think after everything all of those characters did to her in book one, she would be pissed and vengeful. Nope, she's still worried about those ass holes. Seriously- the quads... I dunno if I would have saved them. Oh Oh and Meeting Ronin... Oh yeah, he might be my new crush. But not there yet. And Mab, that woman blows my mind with her crazy. With Claire having to stand almost on her own against so many, we are seeing so much more of her, not screen time as she is the main character, but more of her personality, and her strength, and her mindset, and everything that makes her tick. And she may just save all of their asses in the end. I love her wit and sarcasm, and she's smart. I love intelligent women- I like to think I am one- and I love a complex man- not just "I am alpha and man candy". There are some seriously sexy dudes around but they are all intelligent. Manipulative bastards and crazy to boot, but intelligent. LOL Oh Oh and wait, just wait, until you meet Thanos... Oh swoon... BUT... I love that he is such a replica in looks as Mace... Ok, here's my little secret... I want Mace to get his shit together, and be the guy that Claire finally falls for. Yeah I know, I read the books, I know the torture he puts her through, but I am telling you, there is something special behind that madness, and come on, he has the hots for her, even if he also hates her a little. BUT we have Thanos and he's pretty freaking awesome and it's complicated. NOW before you freak and scream love triangle... Uh no. Poor Claire is going to need a hug when this one is all said and done and I don't know where this will go, but I promise, it's not into a love triangle.
I need to talk about the world building, especially since we are now in the Purgatory realm, and the realms around it. It is freaking amazing, awe inspiring, with how creative the author is. Shock and awe people, because it's that good! And of course, we have the plot. The Big Three are all conspiring against Claire, and we are learning about "candidates" and prophecies, and the fallen realm waking up... Wow. And the totally awesome magical elements. I mean, everyone has some kind of freaking cool power. And the kicker with time manipulations, oracles, magicians, dragons, and Death. Oh Death will make your heart stop here. I am trying really hard not to give away too much, but this one was such an emotional ride for me. With the last book, you are learning along with Claire, so you get the shock value. But in this book, we are dealing with the aftermath. Claire's love life is a mess. Jack broke her a little, And Death wanted to pick up the pieces. Thanos kinda fell head over heels and I don't even know how to go about that. And then Claire decides that she will put aside her mess and try to save herself and even those who have done her wrong. She is learning to use the powers she didn't understand, and is capitalizing on them, as the Big Three were hampering her a little. Well, I still have serious hope for Harry, and with the Boss, I am not sure which side of the fence he is really on. I know he protects Claire because of her mother, but it's got to be more than that. It really does. And I am awestruck at the end because I know it's only going to get more crazy from here on out. There's not a cliff hanger, but dammit if I am not going to jump immediately into book three. I am definitely looking forward to where Claire is going to end up, and with this new power added, and one candidate accounted for, we will see where it will take us. Ms Smith has written a masterpiece and I am completely applauding everything! 5 PAWS! 5 PAWS!! one more time, 5 PAWS!!
Dark Hope
Devil's Assistant Series
Book One
HD Smith
Date of Publication: 03/04/2014
Cover Artist: Robin Ludwig Designs
Claire, the Devil's assistant, knows very little about the world she was dropped into five years ago, when she inherited her mother's unpaid debt to the Demon King. She certainly didn't expect to be a contender for the Fallen Queen's throne, a target for the Druid King's mafia, or a suspect in the murder of Junior, the Devil's oldest hell spawn.
In a last ditch effort to save her life and get out of her deal with the Devil, she sets out to solve Junior's murder only to be taken prisoner by the four most dangerous immortal hell spawn alive.
Not to be out done, the Pagan Queen Mab, claims Claire for entering her realm uninvited. She has an old debt to settle with her brother the Devil. Taking Claire from him after losing her years ago is just icing on the cake.
Will Claire win her freedom, and save herself from the Devil? Or be trapped by Mab forever?
Holy madness of awesome! Ok, so I wasn't sure I was going to like this book, but that was proven wrong when I got into the first chapter. I loved this book!!! But you read the blurb and it sounds pretty interesting. Well that's a lie too, because it's freaking awesome, and let me tell you all about it. It's unique, it's fast paced, it keeps you on your toes, it will have you glued to the last word, and it will having you searching for the next book. Seriously, I read the last sentence and then immediately picked up book two. And it's not just because it's cool. It's so well written! But before I get too far, let me tell you about some of the characters that will blow your mind as you read. Seriously, the author likes to torture her characters! And I will try to explain without getting too detailed because some things just have to be surprising.
Claire is one of THE BEST female lead characters I've ever read... That's awesome because I read more than two hundred books a year- yes you read that right. I read in almost any spare time I have, and Claire tops the list of awesome ladies. First, she is funny. She is literally the Devil's Assistant. Aka The Boss. Yeah they call him that. And in the human world, no one knows he's the devil, but it's over lapping and the supernatural world has fit right in so no one actually knows better. And in the best morning ever, she gets disturbing news, can't find her boyfriend who is the love of her life, and finds out she is about to be accused of murdering the Boss's eldest son. Ok, so that's the start of things. As we work our way through this seriously mind blowing ordeal, Claire continues to get even better as a heroine, not just a leading lady. She isn't whiny, or stupid, or oblivious. She is smart, and strong, and knows when to throw her punches and when to hold back. She is in some seriously hot water, because once she sees what's happening, she is now forced to try to prove she isn't the murderer, keep the crazy Queen Mab - who is also the sister of the Devil, and the Druid king, from claiming her as a torture slave. Oh... and she may also be the new ruler of the Fallen realm... That's complication right. I will not lie, I spent most of the book breathing hard because it was seriously suspenseful. LOL And when I wasn't laughing as some of the things she says or does, I was crying for her. She learned so much in so little time, and none of it was really good. No, it was bad. A lot of bad. Like a whole HEAP! :)
Now, let's talk about all the other characters that will have significance in this series. Jack, her boyfriend, The Devil (the Boss), Queen Mab, Harry the Druid King, Junior- the devil's eldest son, Mace, Sage, Sorrel, and Cinnamon- the devil's other children known as the quads, Frankie & Johnny- some of Harry's guys, Jayne, Omar- a seer, Quaid- the Boss's right hand man, and Death- because we cannot have a great fantasy and rulers without Death. Anyways. I cannot get into details, but these characters all have significance. And no worries, I know I just through out a bunch of names and you're thinking" who the hell are all these folks?" But you won't forget them. You won't need a guide either. The author writes them all so well that you literally feel like you have met them all in real life. I have high hopes for a romance for Claire, but please don't expect it in this book. You will understand why when thinks start to unfold but I really do have some great expectations... (see my review of book three to know what I'm talking about)
Now, let's talk about all the plot goodness. First, you WILL NEVER know what to expect. Like, I don't care if you are psychic, you will not guess any of this. I kept thinking I was going to know something and then, BAM, yeah I had no idea about that, and this, or that. I was never confused, so don't think that, just know that it's unpredictable. I LOVE THAT! There's so many books now a days that seem so repetitive, and I loved that this whole series stands outs- I've read all three books like all at the same time cuz I couldn't help it, so I can say that the next two books get even better. I was constantly syncing my Kindle and my phone's kindle app with this series, because I needed to have them all, right now. I won't lie, it's been a while since a book series has had so much of my interest. Of course I have those series that I loved and have followed, but for a new series for me, I am seriously impressed with how well this was all played out. I can say every single part of that contributes to the exquisite writing skills of the author. She shaped every character, built a world- actually multiple worlds because we have different realms here, and has a plot line that left me stunned at the end. Now, with that said, If I haven't told you at least something here that you might like, I dunno what else to say. I am totally all for promoting this series and I am dying for book 4! So.... a Magnificent 5 PAWS!!
Book Four Coming Soon
About the Author:
HD Smith has been writing for over ten years. She is a software developer by day, working for an awesome cruise line in Celebration, FL.
HD grew up in South Carolina, but has called the Sunshine State home since 1997. She has Computer Science degrees from Clemson University (BS) and Florida Institute of Technology (MS). Her other hobbies include painting and screen printing. She enjoys creating t-shirts inspired by the places in her books.
For more information, visit HD's website at
Tour giveaway
$10 Amazon Gift Card & ebook copy of Dark Forsaken
a Rafflecopter giveaway