So, you know one of my most favorite stalkees is totally awesome! So, I am going to have some fun moments to share myself! Just because I love to remind you guy how AWESOME this series is. PLUS my book boyfriend needed some attention. :) Yes, while Tara gets Wes, I'll just steal Alex off her hands LOL, Now, let me show you! You may have seen some of this from my previous blog, but it's too fun not to show you ;) And if you missed the first stop, my review of book 5- Broken Blood- the last book of the series, you can see it HERE--
http://happytailsandtales.blogspot.com/2015/03/broken-blood-by-heather-hildenbrand-w.html
And stop #2-- is here--
http://happytailsandtales.blogspot.com/2015/03/broken-blood-review-tour-part-ii.html
And stop #3 is here--
http://happytailsandtales.blogspot.com/2015/03/broken-blood-review-tour-part-iii.html
I killed a girl last night. I did it with my bare hands and an old piece of pipe I found lying next to the dumpster. But that's not the part that got me. The part that scared me, the part I can't seem to wrap my head around and still has me reeling, was that when she charged me, her body shifted – and then she was a wolf. All snapping teeth and extended claws. But by the time I stood over her lifeless body, she was a girl again. That's about the time I went into shock… And that was the moment he showed up.
Now, all I can do is accept the truths that are staring me in the face. One, Werewolves do exist. And Two, I was born to kill them.
Forty-six.
That's how many hybrids survived the Hunter attack in the woods after I revived them with an injection of my blood. That's how many followed me home to Frederick Falls. And that's how many were now mentally linked to me through a blood bond.
Two days. Three valium. Fourteen hours of sleep.
That's what it took to realize I wasn't losing my mind as a result of the noise in my own head.
Sixteen.
That's how many days have passed since I almost killed Alex. That's how many days I've sat by his bedside, waiting for him to wake up. To ease the guilt, to understand his betrayal, to remember the exact shade of brown in his eyes.
Zero.
That's my chances of skating by with Gordon Steppe and the Hunter Council. They want me for questioning. I'm afraid what'll happen if I give them answers
OH EM GEEEE! Can't things just ever go right! I mean, poor Tara. First, she's a hunter, then a werewolf, then the most wanted commodity, not she's wanted as dead. It seems likes everyone is out to get her. I am slightly devastated with that last sentence. Seriously, wait until you read it, your jaw will unhinge, and you will burst into tears, and you will curl into a ball and hug yourself. Ok, I did that, but maybe you won't. Then I was furious, because now I have to WAIT AGAIN! UGH! AND my boyfriend wasn't in the book nearly enough for my liking! But, I believe every other fan will be happy, Tara has made her choice. *sigh* ok, let's get down to business. I am pretty sure I love every character here, even the bad guys. I have never been more wrapped up in a series that this one. I feel like I've come to know them more than some of my real life friends. I've reread this series multiple times because I just can't get enough. I will always back Tara. She will always be my go to girl. She's strong, she's courageous, she's crazy, she's beautiful, inside and out, she's determined, she's loyal, and now she's a great alpha. Wes is a wonderful partner. He's loving, and sometimes possessive, but he gets over it, he's so loyal it's crazy. he's pretty much awesome. George is the perfect best friend. I like how his future is shaping up, and I won't say more because that's way to spoilery. Alex, is…. in one word MINE. Seriously. I have decided to jump in the pages and steal him from everybody. Besides, he loves me, he just doesn't know it yet. I have no idea where Heather is going to go with him in the next story. I am still on my seat's edge because I am DYING to know SOMETHING!!! Cambria, is in one word AWESOME. Hehehehehe I can't say how awesome it is to have her as the best friend, side kick, partner in crime. Her and Derek are precious. Gran, Fee, Jack, Vera, I'm not sure who's the cooler role models.
There isn't too many compliments to give to the writing, except that it's the most exceptional piecing together of words I've ever read. Heh, I had you at the beginning of that sentence. Seriously. I laughed, I cried, I yelled, I almost fell off a chair, I stumped my toe trying to walk and read, I am pretty sure I got lost for a while. I don't know how to say it better than I am lucky to have invested in something so wonderful that will stay with me forever. I am forever in your debt, because you've given me so much joy and emotion with this series. *sigh* I will wait forever for as much as you will give me! I will always be your number one fan… ok we reserve that for you hubby, so I will be your number one stalker. :) ALWAYS! Even without a ton of Alex, this one, will get my rare 6 PAWS. I know I said last time infinite PAWS, but I am truly invested and you get the official one :) Now, stop leaving me hanging! LOL No, don't stop, because then it would end! ;) to the rest of you- WHAT ARE YOU WAITING FOR!!
How do you defeat an enemy that knows your every thought … even as you think it?
I thought watching my Werewolf boyfriend get arrested for murder was the worst experience of my life. But then I was knocked out and dragged off to a cell of my own by the very people who were supposed to protect me from danger.


I thought being held prisoner in solitary confinement for weeks on end was the worst experience of my life. But then a visitor came, and I realized I'd been wrong all along. There are worse things than torture and death. Much worse.
He wants my blood. More than that, he wants to get into my head. To use my bond to control his army, to wipe the world clean of anything with dirty blood. I can't let that happen, but if I don't he'll kill every single person I've ever cared about—beginning with my Werewolf pack.
The prophecy said I would have to make an impossible choice, but I must be doing this wrong—so far every choice I've made has only led to more pain and danger and death. Hunters are pitted against Werewolves and I'm alone in my war against Gordon Steppe. I can't fight him off anymore; all I can do is try to keep him out of the important places. And I'm failing at even that.
I thought the demons were out there, clearly marked and clinging to the shadows. But they're not. The monsters are within the ranks of those sworn to protect. The enemy is among us.
New to the Dirty Blood series?
Get started with Dirty Blood FREE!
Sign up to be a Love Bird, get Heather's book updates & new release info in your inbox.
Cold Blood is your free gift!!
COLD BLOOD (Dirty Blood #2)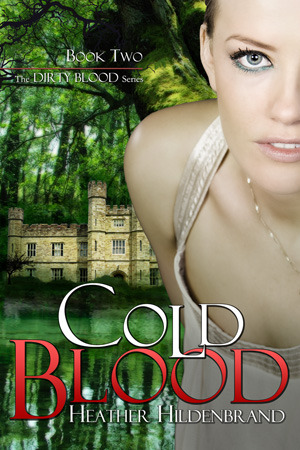 Sometimes Family Can be the Death of You
Wood Point Academy is not at all what I expected.
For one thing, it looks like a cross between military school and Buckingham Palace. Everyone stares, the floors shine so bright you can see your reflection in them from a mile away, and no one smiles.
At least I've got plenty to take my mind off the fact that my psycho cousin, Miles De'Luca, keeps calling and declaring his love and promising to come for me just as soon as he's destroyed anyone standing in our way. Wes isn't going to like that idea. So between Miles, Wood Point's evil welcoming committee, and the drill sergeant hottie trainer from hell, I just keep asking myself, how did I end up here?
Author Information
Heather Hildenbrand was born and raised in a small town in northern Virginia where she was homeschooled through high school. She now lives in coastal VA, a few miles from the Atlantic Ocean, with her two adorable children. She works from home, part time, as a property manager and when she's not furiously pounding at the keyboard, or staring off into space whilst plotting a new story, she's lying on the beach, soaking in those delicious, pre-cancerous rays.
Heather loves Mexican food, hates socks with sandals, and if her house was on fire, the one thing she'd grab is her DVR player.
Heather is a co-founder of Accendo Press, a publishing group she operates with fellow authors: Angeline Kace and Jennifer Sommersby. Accendo (a-CH-endo), A Latin word, means "to kindle, illuminate, inflame, or set fire." This is something Accendo strives to do inside a reader's imagination with every title released. For a complete list of titles and author bios, visit

www.accendopress.com

.
Website:

www.heatherhildenbrand.blogspot.com
Facebook:

https://www.facebook.com/Heather.L.Hildenbrand
Facebook Fan Page:

https://www.facebook.com/HeatherHildenbrandsFanPage
Twitter:

https://twitter.com/HeatherHildenbr
Goodreads:

http://www.goodreads.com/author/show/4607856.Heather_Hildenbrand
Newsletter:

http://blogspot.us4.list-manage2.com/subscribe?u=77abacb38959bc9c0f7b4e81b&id=739fdcef83
I will be back with each book this week to make sure you know all about it :) Happy reading and later gators!
a Rafflecopter giveaway