I am thrilled to share this one! First, this author blessed me with awesome dragons, but now, she has won my heart, she gave me werewolves. And I'm obsessively in love with them!!!! Let me show you ;)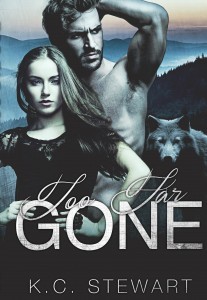 Too Far Gone
(Adirondack Pack #1)
by K.C. Stewart
Publication Date: June 8, 2015
Cover Design: Mayhem Cover Creations
Genre: Paranormal Romance
Synopsis
It's either the beginning or the end for Sadie James. She came to the small Adirondack town of Andora looking for a fresh start. One that didn't include the pitying looks of strangers who saw her on the news. Only days into her new life and already she is in trouble. That is, unless the wolf in front of her was salivating at the sight of some other woman in the vast forest around her.
After killing his sister, Tyson searched for oblivion the only way he knew how to. As a wolf he could run from the life he left behind and become the animal he always was. The time between lucidness grows longer each times he surfaces. One day he won't be able to come back at all. It was the only thing he looked forward to until a lost woman fell at his feet.
Sadie is in danger and she is blind to it. Although, it was never proven, Tyson always believed Jack was behind his sister's ultimate demise. Now Jack has his sights set on Sadie. Can he fight the pull of the wild or will he let her face the wolves alone?
Purchase Links
Other Book in Series
I owe this author a whole bunch! First I need to say, yes I am one of those crazy people who read acknowledgements, LOL since you totally put that in there. :) Second, this, you have out done yourself. I read the prequel. I absolutely died. I felt so damn horrible for Tyson. I knew it was going to be bad. I knew he would be destroyed after killing his sister. I wasn't prepared with how bad everyone else took it for him too. Everyone, except Jack, is so heartbroken, because they lost two pack members that day, Jenny and Tyson. And now, that I know the past that Tyson and Jenny had, I'm even more heartbroken. However.... I am so damn happy. Sadie has literally given me joy with what she did for Tyson, or Fred as she so lovingly calls him. LOL Oh way to play everyone for a loop with Owen demanding that "time limit" there. Seriously, I was in tears LOL
Ok, so let's start with Tyson, since we found his story first. He's broken, he's left his humanity, he lives as a wolf now, he doesn't want to come back. And yet, he hasn't run far. He stayed in the same area as his pack. However, he hasn't been in human form for over a year now. So, it was a little shocking that he started following a human. Sadie, who also happens to be broken. And yet, his wolf calmed down when she was around and let his human come back. Well, I believe she is his saving Grace, and he's hers. And on top of that, there's not just a wolf pack who wants Sadie among their ranks, but the man who left Sadie broken and half a person, his family wants revenge on her. I guess moving long distances isn't always the answer, but it worked pretty good here :) I loved Tyson from the beginning. I have been cheering for him, even when I knew what was going to happen. Even when I knew he though he was too broken. And we all need to thank his wolf for making him finally wake the hell up. Well done Fred!! LOL
Now let's talk Sadie. She's from the upper corporate world. She's smart, and sweet, and funny, and caring, and broken. No one ever understands that when you have an attack that causes severe trauma, it's not something that just goes away. Sadie's so bad that little noises and small touches will send her over the top. I wanted to hug her so bad. I am glad she had Fred around to hug. And Jack, another werewolf, well he's just another form of scum who wants Sadie for the wrong things. She doesn't take long to figure it out either, she just doesn't figure out that he's not human like her first attacker. He's got more weapons under his jacket than he's prepared for. But in the same instance, Jack's crazy causes Sadie to open up to others like Lee, whom I totally adore and I need her to have her own story!! SOON!! Lee is another wolf from the same pack, and she's my hero! I love her. And she becomes the best BFF a girl could ask for. And the town's folk welcome Sadie into making her feel like she's home. Thank goodness for that. She's had to fight enough, but she's still got it in her, it just took a little cray cray to get it back :)
The plot had me slack jawed in awe. I mean, it's not just about Sadie and Tyson finding each other, we have the Riley family, whom I know we haven't seen the last of yet. We have Tyson and Sadie learning how to fix their broken pieces. We also have Owen and Lee and the pack trying to put their pack back together, no matter what kind of manipulation they need to do to Tyson. He needed it anyways. And then we have Jack. He's just one of the bad guys. I hated him in the first book, but I seriously hated him here. He needed something meaner, lol But overall, I'm a goner. I need the next book, like tomorrow. Maybe it'll come down to a fight between Hailey's series and this pack, because I now must have them all, always. The writing is fantastic and the emotion that plays with you for this whole book will keep you on edge and gripping you book- or kindle for me- like it's a life line. I was seriously in tears at one point, and then laughing like a hyena in another instance. With the suspense and mystery, a little action, and some totally awesome romance that blooms like a flower, slowly but magnificently, this book had it all. And must I say it, but WEREWOLVES... You had me at werewolves :) So, now, gimme gimme book two!!! I need it! 5 AWESOME WOLFY PAWS!!
The author has a giveaway going on at her website here-- http://authorkcstewart.com/too-far-gone-release/ I think you should check out! And while you're there, check out her other magnificent series, The Hailey Holloway series :) Ms K- I owe you big time for this one! :) Congrats on another phenomenal story!!