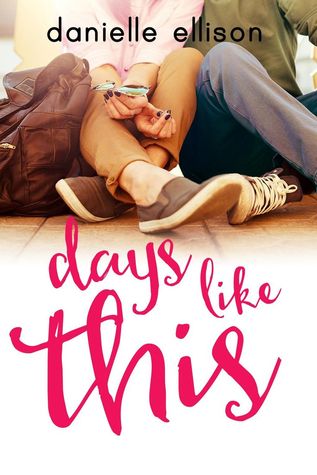 Days Like This (A Landslide Novel) - New Adult
Sometimes the only thing standing between fear and hope is yourself.
Almost a year ago, nineteen-year-old Cassie Harlen had a lot to deal with. A stack of college acceptance letters waiting for answers, a proposal from the boy next door, and a mother whose most recent bipolar episode left Cassie hurt and confused. Tired of cleaning up the messes caused by her mother's disorder, of resenting her mother for not being there, and scared of being trapped by an inevitable future—which included marrying Graham Tucker—Cassie did the only thing she could think of to keep from ending up like her mother: she left.
Graham never knew why Cassie walked away. He woke up one morning and she was gone—along with the life that he'd created around her. After eleven months, Graham has a new plan for his future. One that doesn't involve Cassie Harlen.
When Cassie's mom nearly burns down her house, Cassie's forced to return home. Back to a mother she's tried to ignore and the guy she's been unable to forget. Graham doesn't know how he's going to spend the whole summer living next door to the person who broke his heart without letting those old feelings push through to the surface.
Neither does Cassie.
​
Praise for Days Like This
​"A complicated story of self-discovery, first love and the hope of second chances. Every word, lyric and raw, authentic emotion pulled me in deeper. DAYS LIKE THIS left me breathless. Definitely my favorite read of 2015!" — New York Times Bestselling Author, Rachel Harris
Danielle Ellison has been reading books for as long as she can remember—especially while learning how to do math in elementary school. But that wasn't her fault: she was in BookIt! which meant she had to read a lot of books to get free pizza. That whole program is probably why she still can't subtract or divide without a calculator–and loves pizza.
From an early age she was taken away by the world of magic, dreaming of other worlds and the secret witches that lived next door. (She had every Goosebumps book published and loved Are You Afraid of the Dark.) Her love for reading—combined with an obsession of Power Rangers, Disney movies and a being the only girl in a town full of boys—forced her tell stories to her Barbies in the backyard. And well, she never stopped telling the stories, even if she begrudgingly stopped playing with Barbies.
Danielle started writing plays in high school, and that taught her the importance of character and voice. She loved plays, almost as much as fanfiction (which she also wrote. And because you are wondering she wrote Backstreet Boys, Harry Potter and Heroes.) In college she read a fantastic book (A Northern Light ​by Jennifer Donnelly) that lead her to pursue writing in the hopes that she could produce something "like that." She spent the rest of college writing papers, short stories, and a musical.
After college, she moved to Tennessee where she worked at a bookstore. Her manager introduced her to young adult fiction—and she started devouring books. It was shortly after that she wrote her first (not awesome) YA novel. She hasn't stopped writing since. Danielle started drafting a new novel in 2010, which underwent copious revisions before it sold.
Follow Me Through Darkness released in 2014, and is the first installment of The Boundless Trilogy. The next two release October 2015 and 2016. She is also the author of Salt and Storm, a duology about a sassy powerless witch who hunts demons. Those are both available now. Danielle is happily writing more books, which range in genre. She is represented by Nicole Resciniti at the Seymour Agency.
Danielle previously served as a Senior Editor at Spencer Hill Contemporary for over four years, but she gave that up to pursue writing and grad school. She still does some freelance editing on the side, and she a bookseller/YA event coordinator at One More Page Books in Virginia. She is also the mastermind behind the NoVa TEEN Book Festival.
​When she's not writing, Danielle is probably wasting time on "research." She loves television centered around phenomenal characters, eating cookies (gluten free, no nuts), sitting in the grass when the Fall and Spring weather is awesome, collecting flip-flops, hanging out with friends, reading, and traveling. She also loves knights, so she's probably going to talk about them if you ever meet her. Supernatural is her favorite show, and she thinks everyone should watch it. She often hangs out on Twitter and Tumblr where she fangirls as much as possible, usually about her TV shows.
She is a nomad who grew up in West Virginia, spent five years in various locations in the South, experienced time in NYC, Guatemala, South Africa and London. She used to live in Massachusetts and briefly in Maryland, but has settled in Northern Virginia. For now.
Danielle Ellison spent most of her childhood reading instead of learning math. It's probably the reason she can't divide without a calculator and has spent her life seeking the next adventure. It's also probably the reason she's had so many different zip codes and jobs.
When she's not writing, Danielle is probably eating cookies, fighting her nomadic urges, watching too much TV, or dreaming of the day when she can be British. She has settled in Northern Virginia, for now, but you can always find her on twitter @DanielleEWrites.
website: http://www.danielleellison.com/home.html