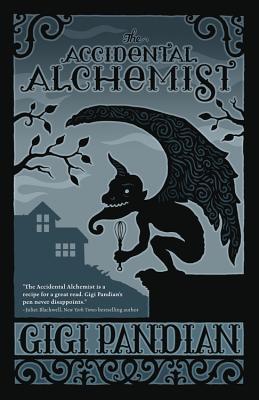 The Accidental Alchemist
A modern tale of ancient intrigue from a USA Today bestselling author.
Published January 8th 2015 by Midnight Ink (first published January 1st 2015)

When Zoe Faust--herbalist, alchemist, and recent transplant to Portland, Oregon--begins unpacking her bags, she can't help but notice she's picked up a stow away: a living, breathing, three-and-half-foot gargoyle. Dorian Robert-Houdin is no simple automaton, nor is he a homunculus; in fact, he needs Zoe's help to decipher a centuries-old text that explains exactly what he is. Zoe, who's trying to put her alchemical life behind her, isn't so sure she can help. But after a murder victim is discovered on her front porch, Zoe realized she's tangled up in ancient intrigue that can't be ignored.

Includes recipes!

Praise:

"The Accidental Alchemist is a recipe for a great read. Gigi Pandian's pen never disappoints."--JULIET BLACKWELL, NEW YORK TIMES BESTSELLING AUTHOR OF THE WITCHCRAFT MYSTERY SERIES

"A magical, whimsical cozy that will delight readers who enjoy Juliet Blackwell and Heather Weber mysteries!" --AVERY AAMES, AKA DARYL WOOD GERBER, AUTHOR OF THE CHEESE SHOP MYSTERIES
Gigi Pandian
My Review
I will label this one as a paranormal mystery, but more mystery overall. The characters are my favorite part. Oh the gargoyle is hilarious. Dorian is a French gargoyle and he loves all things French. He's a cook, and helps Zoe with vegan recipes. And then the mystery is well done. It was unpredictable and surprising. I liked the humor as well. But this one was slow. I almost didn't finish it, but I'm glad I did. I normally like a lot of action, so it was especially hard for me. I think some of it would have helped to be labeled as a paranormal mystery instead of urban fantasy because not too much action here. But the alchemy part was cool. There's hints of a sequel and I think I would read it. so, with that said, 3.5 PAWS!