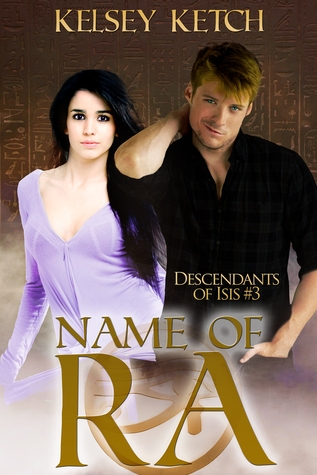 Name of Ra (Descendants of Isis #3)
Summary from Goodreads:
"Set has risen."

After being on the run from a psychotic cult for a week, Natara "Natti" Stone has finally come to realize she and Seth are the only two people standing between the Sons of Set and the secret name of Ra. Holding a part of the key that unlocks Ra's power, they relocate to a more isolated location in the California mountains. While laying low, Natti becomes even more determined to understand her mother's bloodline and her blessing from the goddess, Isis. But when she starts seeing the truth behind her destiny, she begins to doubt her role in the events that are about to unfold.

Then the unthinkable happens . . .

All Seth O'Keefe wanted was to get Natti as far away from his father and the Sons of Set as possible. Unfortunately, after hearing of Natti's destiny from Isis's own lips, he realizes they have bigger issues to worry about. Especially when one stupid slip up leads the god of chaos himself straight to their doorstep. Now Natti is the god's prisoner, and Set holds the key to unlocking the location of the secret name of Ra. Can Seth save Natti from her own destiny and thwart the demented god's rise to power?

*Note: Content for Upper YA*


Excerpt

" Is that — is that your father?" Natti breathed.
" It's worse than that." Seth grabbed the flail from the couch and shoved it into
Natti's grasp.
" No time to explain. Go to the back door and run."
Seth pushed her toward the hallway, praying to the gods they would provide her a means of escape.
" Run! Now!"
Natti sprinted to the back door, tore at the rear lock, and flung open the screen door. Seth forced himself out into the fluttering snow, letting the door slam behind him and narrowly catching his heel in the threshold. They just made it downthe steps of the porch, their bare feet crunching on the frozen grass, before a familiar tingling sensation took hold of the back of Seth's mind. The same one he felt pushing into his consciousness when he was cleaning Natti's wound. It slithered through him, spreading from his skull, down his neck,and to his very core. His body suddenly came to a halt under the mind-crippling force. Every leg muscle trembled in resistance.
Cursing to the heavens, Seth cupped his hands around his head and gritted his teeth. He felt the crippling force buckle his knees and drop him into the damp earth. His palms scrapped onto the icy ground. The wet grass soaked his pajama bottoms through. Sweat trickled from his brow.
No, no, no, he kept repeating, trying to fight back. But his resolve was becoming weaker under his god's power over the beast. Its lust, greed, and hatred worked its way deep into his heart while his conscious thought clouded over and a tingling sensation slithering into the depths of his soul. A blaze flared inside his chest, scorching the inside of his lungs and forcing Sethto grunt out a scream as a battle waged inside him. Meanwhile, Seth watched Natti run. Only a few more steps, and she might actually escape. Yet the tingling sensation consuming his head urged him to call her back. It was like the beast was under his god's control and couldn't allow her to slip from his god's grasp. The fire burned hotter, forcing Seth to clench his teeth and puff out several breaths.
" No," he said out loud.
" No, I won't do it. I won't do it."
Pain seared through his chest as the darkness pressed in and the fire spread into his lungs. His eyes wet with tears, Seth unwillingly cried out her name, " NA-TAR-A!"
My Review
I am so surprised at how much I've loved this series. From beginning to end. This is the third book, and I will warn you up front, this one is no easier than the last two

. There's some majorly complex situations that are not so nice.
And I will also say you need to read the books in order. It would be kinda confusing with everything going on.

Now with that said, Let's talk about the fun stuff. This whole plot set revolves around Egyptian lore- specifically the God Set- which is the god of chaos. The followers of Set believe that women are to be used for a purpose. They have no respect, love, or feelings for women other than to use them for pleasure, reproduction, and sacrifice. It's kinda horrible. So since the leader of this cult following is Seth's dad, and he wants Natti at all costs, this is a complicated situation

.
So Natti and Seth are on the run together. He has left behind his ways of the Set religion and is willing to keep Natti safe. But Seth's dad is dead set on raising Set from his prison in Duat-an underworld- and Seth's issue is that he has power gifted from Set which is a downfall for Natti. Man, I remember being so excited that Seth gave up everything he knew and wanted for Natti. But now, it's not just so simple. Seth may love Natti, but sometimes that's not enough. Natti has her own growing powers and this just adds to the pile of crazy. And because of Seth's parentage, he's cursed between the Daughters of Isis and The Sons of Set. And so between Seth and Set, they are going to fight for Natti, Seth for his love, and Set for his power. I can't tell you too much. There's too many things that would be majorly spoilery. I will say this. It gets real. There's some character deaths, there's some life as well. There's some twists, there's some turns, there's some horrible tragedies, and of course a little bit of hope for there's always good that can come from love- true lo

ve. Natti and Seth have a lot to over come.
The writing is well done. It's such a fun fantasy romance and the world building was just fantastic throughout the whole thing. I really have never had a real fondness for the Egytptian lore, not when compared to Greek and Norse and t

hings of those, but I am seriously a fan now.

No hints, but there's a light at the end of the tunnel, maybe, depending on which angle you're looking at it from. :) I look forward to seeing what Ms Ket

ch is going to come up with next!! 5 MAGICAL CREEPTASTIC PAWS!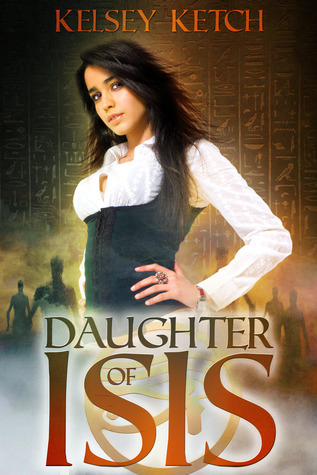 A Little Egyptian Fun!
In case you guys are wondering, my name would be Merui Mau- so I am Beloved Cat :P

During her high school years, Kelsey Ketch could always be found tucked away in a little corner of the hall or classroom, writing her fantasy worlds and creating illustrations and maps. Today is no different, except now she's writing in the break room at her office building or at the tables of the Barnes and Noble Café in Cary, North Carolina. She is also an avid reader, a part-time book blogger at Ketch's Book Nook, and lives with her two orange tabbies and awesome and humorous flat-mate.Daughter of Isis is her debut novel.
Author Links:
Giveaways!
Signed Book Set of the Descendants of Isis (paperback; INT):
a Rafflecopter giveaway
Mini Anubis Plush Toy and Ma 'at Feather Pendant and Chain (INT):
a Rafflecopter giveaway
Cover Reveal Organized by: