Entangled TEEN Sci-fi Sale Continues with Obsidian
As you know, we have a number of sci-fi and fantasy titles releasing throughout the fall and into early January, including Oblivion by Jennifer L. Armentrout on December 1st, so we thought that making Obsidian FREE for a limited time would give you and other readers the incentive to pick it up.
From Nov. 2 to 29th, Obsidian, the first book in the Lux series, will be FREE!!
Please use the #NeedMoreSciFi hashtag throughout the event whenever you promote it.
In addition, I wanted you to remind you that on Nov. 4th at 9pm EST, we will be having a #NeedMoreSciFi Twitter Chat with some of our new Sci-Fi authors and some of the experienced ones: Amy Engel, Pintip Dunn, A.L. Davroe,and Kate Jarvik Birch! Please feel free to RSVP to the event here: https://www.facebook.com/events/1703039723261845/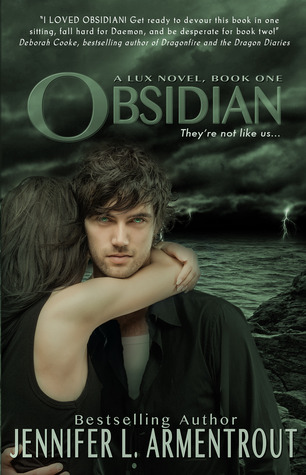 Information:
Title: Obsidian
Series: Lux, #1
Author: Jennifer L. Armentrout
Genre: Young Adult, Teen, YA Paranormal, YA Sci-FI
Length: 400 pages
Release Date: May 2012
ePub ISBN: 978-1-62061-006-0
Print ISBN: 978-1-62061-007-7
Imprint: Teen
Starting over sucks.
When we moved to West Virginia right before my senior year, I'd pretty much resigned myself to thick accents, dodgy internet access, and a whole lot of boring…. until I spotted my hot neighbor, with his looming height and eerie green eyes. Things were looking up.
And then he opened his mouth.
Daemon is infuriating. Arrogant. Stab-worthy. We do not get along. At all. But when a stranger attacks me and Daemon literally freezes time with a wave of his hand, well, something…unexpected happens.
The hot alien living next door marks me.
You heard me. Alien. Turns out Daemon and his sister have a galaxy of enemies wanting to steal their abilities, and Daemon's touch has me lit up like the Vegas Strip. The only way I'm getting out of this alive is by sticking close to Daemon until my alien mojo fades.
If I don't kill him first, that is.
Price listed is for the U.S. digital format. Please confirm pricing and availability with the retailer before downloading.
Obsidian Quotes:

"To me, Obsidian was absolutely PHENOMENAL! A book I wish I could just slip into and get lost for the rest of my life – a book hasn't made me feel like that since Harry Potter first came out. OBSIDIAN IS A MUST READ AND A MUST REREAD!" -Kelsey Ketch, author of Daughter of Isis

"It's hard to believe it's taken me this long to pick up Obsidian! But boy oh boy, am I glad I did!!! Perfect for YA fantasy, sci-fi, paranormal romance fans! <3 -="" author="" br="" do.="" haven="" hello="" if="" liza="" of="" over="" re="" series="" started="" t="" this="" way="" wiemer="" you=""> 3>
"Aliens, hot aliens? DAEMON BLACK???? YES PLEASE! Loved this book, read it in 2012 but decided to come back and write a review for it. This is actually the book that made me start book blogging!" - Sasha Alsberg, abookutopia

"Sweet. Baby. Jesus. Picked this book up at 1 AM and read it straight through until 6 AM. A funny, entertaining, and very addicting read. (I'm totally exhausted after staying up late to finish this, but I ain't even mad.)" - Kat O'Keefe, katytastic
"The romance was HOT AS HELL, I fell hook, line and sinker for Daemon Black and literally swooned at everything that came out of his mouth all the while wishing I could punch his face! This is exactly the romance I love, the fighting, the tension, the will they won't they? So much bloody angst! I devoured this book in two sittings, as I just needed to see what would happen next." - Cody, Literary-ly Obsessed
Obsidian Teasers"
1) "Beautiful face. Beautiful body. Horrible attitude. It was the holy trinity of hot boys."

2) "Why are you such an ass?" The words came out before I could think twice.
"Everyone has to excel at something, right?"
"Well, you're doing a great job."

3) "I've always found that the most beautiful people, truly beautiful inside and out, are the ones who are quietly unaware of their effect." His eyes searched mine intently, and for a moment we stood there toe to toe. "The ones who throw their beauty around, waste what they have? Their beauty is only passing. It's just a shell hiding nothing but shadows and emptiness."

4) "You're such an ass. Has…anyone ever told you that?"
He flashed a genuinely amused smile. "Oh, Kitten, every single day of my blessed life."
5) "I checked out your blog.'
Oh. Dear. Baby. Jesus. How did he find it? Wait. More importantly was the fact he HAD found it. Was my blog now googleable? That was awesomesauce with an extra heaping of sauce."


PS, I'll be getting this freebie and finally reading this one :) yes, I know, I haven't read it yet!