So I fanatically love this series so I can't wait to tell you all about the new book addition!! :) It's a fun one, so let me show you some goodies!!
El is a beautiful, successful, plus sized woman suffering from a debilitating humiliation that has left her hating all handsome, wealthy men exactly like Stefan Le Beau. Unfortunately for Le Beau, she's known him since she was sixteen and was totally snubbed by him. To her, he's a hound dog and a man-whore.
Stefan is a playboy to the extreme with one hard and fast rule: date a woman only once, take her to bed, and be gone before morning.
Stefan's dream of finding his mate comes true when he bids two hundred thousand dollars to win a date with El at Simon's charity ball. Money well spent in his opinion.
Now, if she would only talk to him. Or look at him. Or touch him, or…like him.
Can Stefan convince El he's a reformed man?
Can El learn to trust a man who is the epitome of what she avoids and could shatter her heart?
It will require drastic, strategic measures from the entire family to make this mating happen.
·
Amazon
http://www.amazon.com/Stefan-Brothers-Orleans-Billionaire-Shifters-ebook/dp/B00QAVD7VM/ref=pd_sim_kstore_1?ie=UTF8&refRID=1GYPV3GAX9J9XS1PVFPE
Forty–five minutes later, the auction was finally over. She could finally go home. Her feet were swollen and something was doing a tap dance on the inside of her skull. The Tylenol she had taken fifteen minutes ago hadn't kicked in yet.
She considered her options as she rubbed the edge of her sole, should I chance taking these shoes off? Crap, I might not get them back on. Then what? Go bare foot in this gown?
That wouldn't be embarrassing, not at all.
El stood and limped to the door leading to the ballroom. She groaned as she looked at the crowd she would have to walk through to get to her truck.
This was going to be two hundred thousand times worse than a walk of shame.
She giggled at her bad joke. Yeah, she was losing it.
The deep timber of his drawl had no business sending her pulse racing. She waited for a panic attack to kick in, but her body remained calm.
"Nothing." She squared off with Stefan. "Were you dropped on your head as a child?"
The smell of fresh leather surrounded her. She took a deep breath wondering once again where it was coming from.
She cocked her head and arched a brow at him.
"Is there a history of insanity in your family?"
"No." He scowled. "What are you getting at?"
"No one in his right mind would bid two hundred thousand dollars. That leaves one conclusion, you're insane."
"Oh, I'm insane all right. Insane for you."
"Right. Go fishing with those lines somewhere else, this woman isn't biting."
"Oh, cher," he laid his hand across his heart, "you wound me."
"Shut up, Le Beau." She tried to push past him but he didn't budge. "Please move out of the way."
From the ballroom, the band began to play a romantic waltz. Her father's favorite song–the one he always insisted she dance with him to. How odd.
He presented his hand to her. "I do believe they're playing our song."
She looked at his hand suspiciously. "What are you doing now?"
"I'm asking the single woman I won at the auction to dance. That is my right as the winner." He grinned.
She stepped back and crossed her arms. "You're kidding, right?"
"I've never been more serious, I assure you. Now, may I have this dance?" His hand remained extended as he waited for her response.
She eyed the hand like it might bite. "Fine. I suppose I have to."
Stefan led her to the dance floor and took her into his arms. She was perfect. His wolf howled in triumph. Now if he could only get her to actually like him.
My Review

Please forgive me but I need just another day or so to finish my review! I know I'm late, but things have been crazy around here. However I can tell you that I am loving it, and it will be a 5 PAW review, unless my lovely author kills one of my book boyfriends or something at the end. LOL
V.A.Dold is the bestselling author of the Le Beau Brothers series, New Orleans wolf shifter novels. A graduate of Saint Cloud University, she majored in marketing. Prior to becoming a full time writer, she was a publicist to the authors, owning Innovative Online Book Tours and ARC Author & Reader Con's (ARC NOLA) (ARC Phoenix). Still is. The companies mesh so well together, much like PB&J.
Her idea of absolute heaven is a day in the French Quarter filled with nothing but her computer, her coffee mug and the Brothers, of course.
A Minnesota native with her heart lost to Louisiana, she has a penchant for titillating tales featuring sexy men and strong women. When she's not writing, she's probably taking in a movie, reading or traveling.
Her earliest reading memories are from grade school. She had a major fixation with horses, and the Black Stallion was a favorite. Then junior high came along and teenage hormones kicked in. It became all about the Harlequin Romances. She has been hooked on romances ever since.
·
Facebook https://www.facebook.com/vickieann1
·
Tsu https://www.tsu.co/VADOLD
·
Twitter https://twitter.com/VADOLD
·
Goodreads https://www.goodreads.com/author/show/8061389.V_A_Dold
Other Book in the Series, which I of course gave 5 PAWS to both :)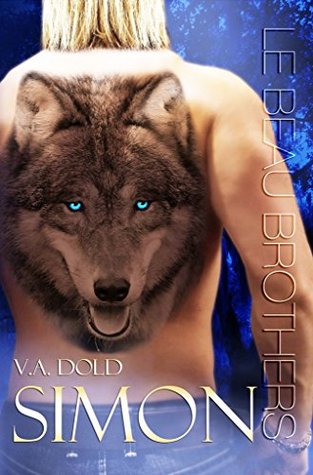 I am so thankful to Ms Dold who sent me a copy to read this awesome book! I love this series! I hope you guys check them out!! Happy reading and later gators!!