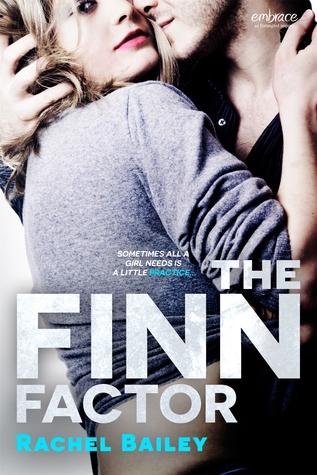 The Finn Factor by Rachel Bailey
Release Date: 09/28/15
Entangled Embrace

Summary from Goodreads: A new adult romance from Entangled's Embrace imprint...
Sometimes all a girl needs is a little practice...
It's been twelve months, three days, and eleven hours since accounting student Scarlett Logan made it past a second date. A pitcher of mojitos in hand, she employs her supreme graphing skills to narrow things down to one horrifying explanation. Kissing. Clearly someone needs to teach her how to kiss properly. Like, say, her best friend and roomie, Finn Mackenzie. He's safe, he's convenient, and yeah, maybe just a little gorgeous. Finn knows exactly why Scarlett's boyfriends are disappearing quickly. Him. Not a single guy she's brought home is nearly good enough. And he'll be damned if he lets some loser give her
"kissing lessons." No. He'll do the honors, thank you very much. The moment their lips touch,
though, everything turns upside down. But Scarlett deserves theone thing Finn can't give her. And if he doesn't put an end to the sexy little shenanigans, he'll teach Scarlett the hardest lesson of all...heartbreak.
Add to Goodreads
Buy Links:
Amazon Buy Link:
http://www.amazon.com/Finn-Factor-Entangled-Embrace-ebook/dp/B0140NXXAG
Barnes & Noble Buy Link:
http://www.barnesandnoble.com/w/the-finn-factor-rachel-bailey/1122539224
Entangled Page:
http://www.entangledpublishing.com/the-finn-factor/
About the Author
As a teenager, I was a voracious reader of science fiction, until one day when I was 16, I saw
Pride and Prejudice on television. The old version with Laurence Olivier and Greer Garson. I
adored it. I'd seen it in the TV guide and, since I had a crush on Laurence Olivier after seeing him in Henry V, I'd taped it. I watched that tape so often I can still recite most of
the dialogue by heart. I sought out the book, devoured it, then found every other Jane Austen book and read and reread them frequently. I only discovered romance as a genre as an adult. Imaginemy delight when I first read modern versions of Jane Austen!
Now I read most subgenres of romance, from category to historical to romantic comedy. Such a banquet!
Author Links:
Website
Goodreads
Twitter
Facebook
GIVEAWAY:
a
Rafflecopter giveaway
Book Tour Organized by:
YA Bound Book Tours