Hi everyone! Thanks for stopping by for the True by Laney McMann book blitz with Xpresso Book Tours.
True by Laney McMann
(Fire Born #3)
Publication date: September 2015
Genres: Urban Fantasy, Young Adult

Synopsis:
Nothing in Layla and Max's world will ever be the same.
Since Max left, and joined his father in the Shadow Realm, everything in Layla's life has changed. The Demon Gods threaten to destroy the Otherworld, and an inconceivable darkness has awakened—a darkness that wants control of Layla's will. It also wants Max … dead. Not only must Layla face the true fire simmering inside her, but fight the one she loves most.
And this time, with her friends and family left behind, she's completely on her own.
Leaving Layla nearly destroyed Max, but it was his only choice. Now, he must play the part—stay in control of his end goal, his actions, and the poison coursing through his veins, clouding his thoughts, and turning him into what he fears most, a Demon God. But even with his Oghams fighting the toxins, his control is slipping. Living in the Fomore castle with his Vampyre Fae ex-girlfriend isn't making it any easier to stay sane, and waiting to face off against Layla is taking its toll.
In the final installment of the Fire Born Novels trilogy, the legendary Battle will be fought, and Layla and Max stand to lose everything. How far will they go to save each other and protect the ones they love? Even they don't know the answer.
No one can win.
From the ashes of old,
They shall rise.
The last of the Ancients,
Foe and Ally.
The Legend lies in wait,
And bides its time.
Until at last the day comes,
For the children born of fire.
Purchase:
My Review
I have been obsessed with this series for forever! The author loved me enough, seriously I will kiss her if I ever meet her, that she sent me an autographed paperback copy for me to read early. Let me tell you how I made noise when I opened that package. LOL But back to goodness. There has been so many things that happened in this series. Which I immediately went back and read books one and two before I cracked open book three. I seriously had doubts that Max and Layla would ever be able to have love, real love, with everything going against them. And I'm not ashamed to say I cried like a baby at the end. Seriously. Wept. Ugly, red, snotty, cried. And it was the most beautiful ending I think I've ever read. But I should have expected this, because this author is seriously talented. I never was one for angels. I do love me some demons. But this is more along the myths. With demi gods and the Morrigan, and demons, and so much much more. It's so hard to tell you things without going into detail or giving spoilers for the first two books or ruining this one for you.
*sigh* This is the end of Max and Layla. And all of the people who have surrounded them that we've come to love. Max went to hell to save Layla. Layla went to hell to save Max. Oh, and there's some kickers that will blow your mind. Who each of their parents are. What the curse really means. What happened in the past to make this all come to happen. Who each of their families are and what that means for the whole world. And it comes down to this. King Elethan will do anything to make sure he gets the power over all, no matter who he has to kill to get that. It comes down to Max and Layla. For this to happen, one must kill the other. So, King E has Max already, he sends for Layla to come into his territory to train for the battle. He says it's courtesy. LOL!! And he knows the Morrigan is with Layla, so he will get what he wants with her as well.
I swear Justice, Benny, and Tristan are my favorite characters. I know I love Max and Layla, it's a given because of who and what they are. But seriously, I loved our little posse that had their backs for this whole journey. Justice became me serious crust in this whole thing. Can I have him!! They all changed so much. Layla went from a girl who thought she lost her mind and her memories, Max went through the boyish I will do it even if it kills me, to I will love you and I will stand by you no matter what. Benny probably changed the least, but that's ok because she was awesome as is. Justice and Tristan grew because they finally came out of their shells. Literally, seeing as what they were LOL. When it came to the end, other than crying, I think I was just breathless. Because this series is seriously that good.
There are no words with the writing. It's something magical when words on a page can make you feel so much. This author has magic in her fingers, and brain. :) She made the world for this story so believable. And coveted. I want to be there with them. I felt I was. And she also made it simple in all its complexity- TRUE. Be who you are, love conquers evil, the light will always chase away the dark. You just have to fight for it. This is beyond a magical journey of fictional characters. This is a beautiful story that will hold true through time just like Max and Layla did. Oh I made a pun LOL But on a serious note. READ THIS SERIES!!! If I could tell you of a series everyone should read, it's this one. Because it's just that awesome. And there's no PAWS here. I mean come one, there's aren't enough clicks for a rating here. I need infinite. My expectations were blown out the water with this ending and I couldn't have said it enough! Asolutely, wonderfully, magnificent 6 PAWS, that rare rating I throw out because it really earned it!
AUTHOR BIO:
I write young adult dark urban fantasy mixed with a spike of paranormal romance, a touch of history, and a dash of mythology. I'm a dreamer, an over thinker, and a myths and legends believer. Nothing moves me more than writing fantastical stories. And reading them.
I am the author of:
The Fire Born Novels, TIED, TORN & TRUE
The Primordial Principles, CRYSTALLUM, book 1, releases in the Fall of 2015
ASTRAL (An Asylum Short Story) which also releases in the Fall of 2015.
GIVEAWAY
Blitz-wide giveaway (INTL)
2 winners:
The complete series in print
The complete series in eBook
a Rafflecopter giveaway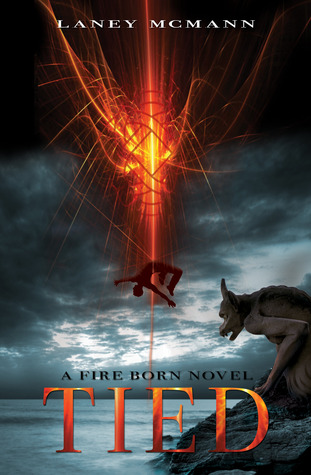 My 5 paw review is here
My 5 paws review is here