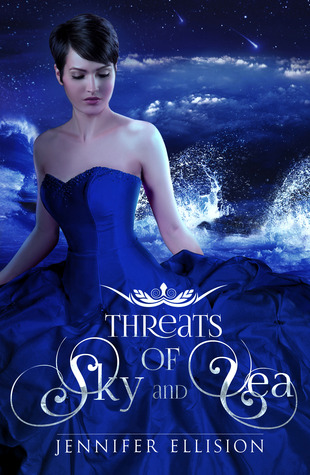 Threats of Sky and Sea (Threats of Sky and Sea #1)
by Jennifer Ellision
Sixteen year-old Breena Perdit has spent her life as a barmaid, innocent to her father's past and happily free from the Elemental gifts that would condemn her to a life in the Egrian King's army. Until the day that three Elemental soldiers recognize her father as a traitor to the throne and Bree's father is thrown in jail—along with the secrets from his last mission as the King's assassin. Secrets that could help the King win a war. Secrets he refuses to share.
Desperate to escape before the King's capricious whims prove her and her father's downfall, Bree bargains with him: information for their lives. It's a good trade. And she has faith she'll get them both out of the King's grasp with time.
But that was before the discovery that she's the weapon the King's been waiting for in his war.
Now, time is running out. To save her father's life and understand her own, Bree must unravel the knot of her father's past before the King takes his life– and uses her to bring a nation to its knees.
Paperback, 360 pages
Published May 20th 2014 by Createspace (first published May 16th 2014)
ISBN 1494955849 (ISBN13: 9781494955847)
My Review

I LOVED this story!! WOW. I mean I wasn't fully sure what to expect from everything, but I was definitely surprised at how awesome this book was :) This is a magical world and every thing is surrounding family and friends, so if you are looking for a lot of romance, this one maybe isn't for you. I of course LOVED that part LOL Romance isn't the only love to go around :) But there is some romance so don't panic LOL It's just a fantastic story so I want everyone to check it out :)
Breena is a simple girl. She lives well away from everything, The king and his people never come to her town. Everyone gets along. And then she sees something she was never meant to see. All she wanted was to be who she already was, the inn keeper's daughter. She loves her dad, her job, her home. And then with her witnessing something, you won't believe the can of worms it opens up for her. She really isn't just a simpleton. Not even close. And then upon some serious threats and a devastating loss, she is taken from everything and everyone she loves. Breena learns who she is, how she's really connected to a past she never knew about, and some devastating things about the father she loves but can't believe what she's hearing. And yet, he did it to keep her and himself alive. I absolutely loved Breena's character. She is amazing, and believable and absolutely someone I want to be friends with. I am so seriously glad this is a series because I lurv her, yep that much :)
Cade, well he doesn't introduce himself as the Prince, but he is. He doesn't like his father's crazy self, greedy ways, and power hungry madness. He actually tries to stay away and has his own plans in sight. He's not an elemental of any kind, so with Breena and her dad, having something of a power makes him a little different. And he uses every power of intelligence because he will make sure that this reign of terror by his father won't last long. He also rescues Breena. I didn't think I'd like him but I ended up loving him. He's definitely a book boyfriend to watch :) We also have some great side characters like Aleta, the kidnapped princess from another kingdom, The king with his crazy self. He is so power hungry that he has completely doomed himself. Everyone will work against him eventually, and he's so ruthless and cruel, it's the only thing that has kept mutiny at bay. But not for long :)
I loved the writing. I am so impressed. I know I say it a lot, but some people can make magic with words and this author is one of those. She made this fantasy seem so real to me, and it isn't just the writing style, the storyline and plot was amazing. I am so salivating to read more from this series and I absolutely must read book two, and every book this author graces us with!!! Absolutely amazing!!! 5 EPICLY AWESOME PAWS!
https://www.goodreads.com/jenniferellision
website http://www.jenniferellision.com
twitter username JenEllision
Jennifer Ellision was born and raised in South Florida and lives in perpetual fear of temperatures below 60F. She spent a great deal of her childhood staying up past her bedtime with a book and a flashlight. When she couldn't find the stories she wanted to read, she started writing them. She has an OTP, loves character analysis, and is a master of the fangirl flail, with a particular soft spot for fanfiction. She frequently bursts into song (and they are often of a Disney persuasion). Sailor Moon is one of her favorite things on this planet.
Threats of Sky and Sea is her first novel.
She also blogs at The Bevy Bibliotheque, where she talks about books, TV, movies, and other things that she goes fangirl over. For review requests or blog inquiries, please visit http://www.thebevybibliotheque.net to contact the blogger who best suits your request.
COMING SOON