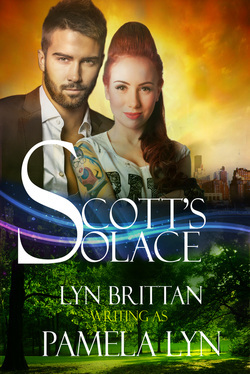 Name of Book: Scott's Solace
Author: Lyn Brittan
Genre: New Adult Paranormal
Word Count: 20K
A standalone novella following the Gormly Clan...
When Jessica left the farm to start over in the city, she had her future all laid out. Too bad her plan for success went from super awesome to complete crap in twenty seconds, and all because of that stupid lightning catcher, Scott Ares. He looked a lot different from their small town days, all suited up and stuff, and it's not necessarily a bad look...
The only thing standing between Scott and his plan to destroy his father is Jessica Freaking Solak. The nerd he knew then and the tattooed motorcycle riding chick in front of him now couldn't be more different. Still, she's in the way and has gotta go. Although, it shouldn't cause too much drama if he kissed her once or twice first.
His hands, all on their own, clasped around her waist and hoisted her up.
Her objection was a little vocal. And kick-y. "Put me down!"
Okay, maybe it'd started out that way, but a bit of his finger grazed the space where her shirt and shorts met. The power in her, untapped energy, tingled his hand. "You grew up, Jessie."
"Jessica." She did a two-step away from him, but he knew she'd felt it too.
There had to be a million and one ways to play this to his advantage, but at the moment, he couldn't think of one.
Really, he couldn't think of a single thing beyond touching her again.
And that scared the shit out of him.
So I haven't read anything by this author before, but I really liked this one. Yes, I know, I started with book 4, but I promise there's nothing missing. It's a quick, fun read with humor and romance, and a wonderful story of finding yourself, even when you think it's lost :) Jessica and Scott grew up together, they were best friends. But Scott disappeared, Jess lost her family, and they both have some things that they need to let go. Or maybe hold on to. :)
Jess is fun and sweet and hard working. I liked her a lot. She was willing to pull Scott kicking and screaming if she had to, to make sure things worked out. She wasn't gunna loose everything to his crazy self. And when he treats her bad, she makes sure he knows it, and made sure that he realized just what he was gunna lose. I loved that about her. Smart girl :) And though she's lost, she hasn't given up, or given in. Death hits everyone and sometimes you just have to cherish the nice memories, instead of holding on to the bad ones.
Scott, well, he came off as an ass in the beginning. I thought he was a total douche, but thanks to Jess, and boy did she work at it, but she finally got through to him. He wanted to buy and remodel a house just to show his father some vengeance. But Scott has so many chips on his shoulders. I mean big ones too. And he tries to outbid Jess at an auction for the house. He doesn't know what he's getting into, and neither does she, but he talks her into being his partner. And like all partnerships, there's good and bad from both. LOL
This is a sweet story, with lots of fun romance, some cool things about Lightning Catchers I didn't know about. And I need to read the first few books because I think I am probably missing out on some good stuff! LOL I loved the writing style and I am now a fan! I think you guys should check this one out!! 4.5 PAWS!!
January 26th
Kariny's Teen Boox Frenzy
January 27th
January 28th
January 29th
January 30th
February 2nd
February 5th
February 6th
You can find out more about Lyn Brittan here: