Madison Fox survived her first week as California's newest illuminant enforcer, defending her region against imps, vervet, hounds, and one lascivious demon. If her grumpy boss, Mr. Pitt, was impressed, he hasn't told Madison. In fact, there's a lot her boss has been closemouthed about, including the dark secret haunting his past.
But Madison's problems are just igniting. Neighboring regions report an uncharacteristic flare-up of evil, fire-breathing salamanders blaze unchecked across the city, and Black Friday looms. Trapped doing cleanup amid mobs of holiday shoppers, Madison watches from the sidelines as dubious allies insinuate themselves in her region.
As suspicions kindle and the mysterious evil gains strength, Madison must determine who she can trust—and whose rules to follow—before her region and career go up in flames.
Sizzling with adventure and sparking with magic, A Fistful of Fire is fused with Madison Fox's trademark blend of humor and ass-kicking action.
A Fistful of Evil:
Madison Fox just learned that her ability to see souls is more than a sight: It's a weapon for fighting evil. The only problem is she doesn't have a clue what she's doing.
Character interview
WELCOME Niko!! First, tell me a little bit about yourself and your life…
Thank you for having me on your blog, Maghon.
I was surprised the Collaborative Illumination Alliance was interested in such a personal interview, but I'm not one to second-guess the CIA.
Let's see…I'm a six-foot-tall, sexy-as-sin African American man in my late twenties…
Okay, I just wanted to see how far you'd let me go, but you're not stopping me. Anyway
,
let's get this back on track. M
y name is Niko
Demitrius
, and I'm the
optivus
aegis for Northern California.
Basically, I'm the guy
who gets sent in when an overwhelming evil problem shows up. I became an
optivus
aegis at twenty-two, which is young, but I spent my youth and teen years working under some amazing enforcers and wardens, and they taught me everything I know. I've lived and worked in California my whole life
, so when this
job opened up, I leapt at the chance.
It's what I feel I was born to do
.
Tell me how you feel about Mad
ison and the parts you play in her life...
I'm not surprised you asked. I've been spending a disproportional amount of time in Madison's region lately.
Madison got thrown into her position as illuminant enforcer
of
Roseville with next to no experience and far too little training. I don't know how she managed to ignore her ability to see souls
and
all the evil creatures who are attracted to pure enforcer souls for her first twenty-five years on this planet.
Once I get a breather, I'll be talking with an inspector about that—not that Madison is in trouble, but we shouldn't let this happen to another young enforcer.
How I feel about Madison varies by the day. Some
days she impresses me with
her bravery and
how quickly she's
learning
. Other days she impresses me with her stupidity.
She's lucky to be alive after some of the stunts she's pulled. Give her another year or five, and she'll be a force to be reckoned with.
Lately, as I said, I've been spending a lot of time in Madison's region. Her inexperience combined with the massive amounts of evil that invaded her region
has necessitated my presence. First there was the problem at the video gamer's convention, and now there's some mysterious source polluting all the regions in the area. It's more than Madison can handle on her own—whether she knows it or not—and the other enforcers in the area… Let's just say the CIA would operate a lot smoother without
inter-
regional politics.
T
ell me a little something about your job, other than the just the basics.
Well, let's start with the basics, since I was told to be thorough. I can see the world in Primordium, a
visual frequency that enables me to see
lux
lucis
(good energy) and
atrum
(evil energy). It also allows me to see evil creatures that are invisible to normal people. These evil creatures feed, in one way or another, off people's souls. It's my job to stop them.
Of course, I just described the skills and job of every enforcer, including Madison. Enforcers work smaller regions, usually
a city, or in Madison's case, part of a city. They focus on keeping their small region clean and wiping out evil before it gains momentum
and
become
s
something I'm called in for.
As
optivus
aegis, my "region" is the entire northern half of California, from the northern side of the Bay Bridge up to Shasta, and everything in between. It's a huge area to cover, but manageable
since I'm not working all the day-to-day problems
.
I'm called in for upper-level demons (the smaller ones the enforcers can usually handle),
turbonis
formations, mind-jack swarms, and the like.
If you want more information about my recent projects, read up on the
field
reports titled
A Fistful of Evil
and
A Fistful of Fire
. They should have all the pertinent information. (And no, I'm not sure who titles those things, but
they're
catchy, right?)
Out of all the characters in this book series, who is your favo
rite? Do you think you'
re the coolest? There's always a fan favorite to read about but sometimes it's the side characters that are the most fun
.
I feel like this is a loaded question, and possibly you're referring to Madison's boss, Brad. He's been a stellar warden since his Triumvirate hearing
. Sure, he
grumbles about the dinky size of his region,
but
it hasn't stopped him from doing everything in his power to keep it clean. I know the wardens around him are trying to get him fired
. They think he's going to repeat his past mistake, but I'm keeping an eye on Madison, and I'll make sure it doesn't happen.
Are
you single? Do you think you'd l
ike a date with a nice southern Cajun lady? Ok, I can't lie, I'm not really nice, I'm a little crazy, but I cook really good :) LOL
Ha! Yes, I'm single, and a crazy cook sounds, ah, interesting.
B
ut
, um,
I think we've veered off topic…
B. What's your favorite alcoholic beverage
? Scotch, neat
C. Favorite Food?
My mother's cooking, of course
D. If you had to cho
o
se Cof
fee or Chocolate? –don't laugh, I don't like chocolate so it's quite easy for me, but a LOT of people NEED both LOL
Chocolate
E. Beach or mountains?
Mountains—Have you ever looked at a forest in Primordium?
F. Winter or summer?
Winter
G. vampires or werewolves?
I don't think I'd want to face down
either
, but if I had a choice, I'd rather fight a werewolf.
I. Favorite color?
Sky blue
K. Moo
nlight or sunlight?
Sunlight
L. Boxers or briefs?
Okay, again, I'm not sure why the CIA wants this information…
Thanks so much for hanging out with us, Niko! I'm a huge fan and I can't believe you took time to come visit me!
Thank you for having me. This was a pleasant—if sometimes strange—conversation.
Rebecca Chastain is the International Amazon Fantasy Bestselling author of A FISTFUL OF EVIL and MAGIC OF THE GARGOYLES. She has found seven four-leaf clovers to date, won a purebred Arabian horse in a drawing, and once tamed a blackbird for a day. Dreaming up the absurd and writing stories designed to amuse and entertain has been her passion since she was eleven years old. She lives in northern California with her wonderful husband and two bossy cats.
Contest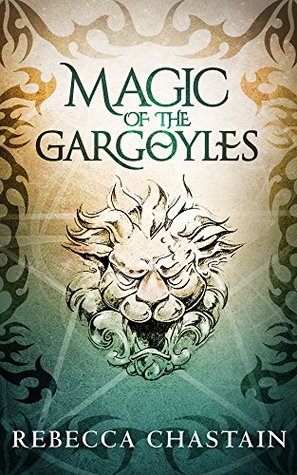 My 5 PAW review is here!
Watch for the release day October 10, including my review :)